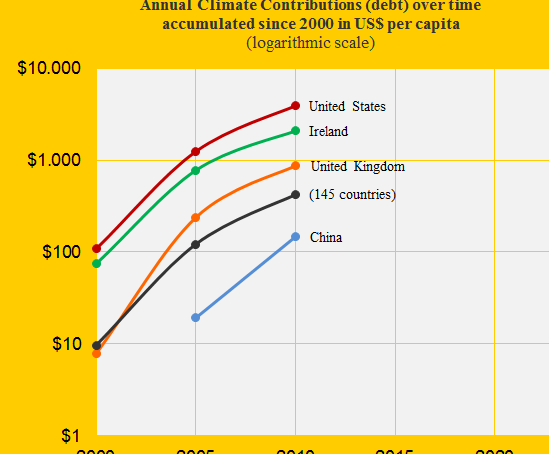 In ClimatePositions 2010, United Kingdom was the 26th worst performing country while Ireland was number 14 out of 145. The first diagram shows the two countries' Climate Contributions (climate debt) per capita over time in comparison with the United States, China and the world average (note the logarithmic scale). See the changes in Climate Contributions per capita since 2010 'here').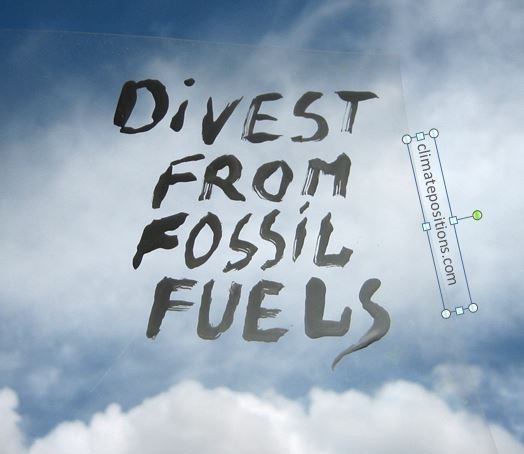 The estimated reserves of oil, gas and coal underground will, if extracted and burned, release 3,700-7,100 Gigatons CO2 (billion tons). However, only 550-1,270 Gigatons CO2 can be burned before 2050, since the United Nations has decided (!?) to keep the rise in temperature below 2°C. If the UN plan is followed, then only 8%-34% of the estimated reserves can be extracted and burned over the next 40 years. Many scientists believe that this assessment is overly optimistic; read this 'article'. Subject to uncertainties, this is the basic challenge faced by the world leaders, the Fossil Fuel Companies and mankind. Given the huge investment costs of search and extraction of Fossil Fuels one would expect the search to fade out, but this doesn't seem to be the case.
Nothing suggests that religiosity is a brake on the ongoing climate destruction caused by humans – simply because 84% of the global population is considered more or less religious. The following looks at the possible correlation between Climate Contribution (climate debt) and the world religions: Christianity, Islam, Hinduism and Buddhism – and Other Religions and the Residual Group (including non-religious). All figures must be interpreted with great caution due to uncertainties and dilemmas in the compilation methods.