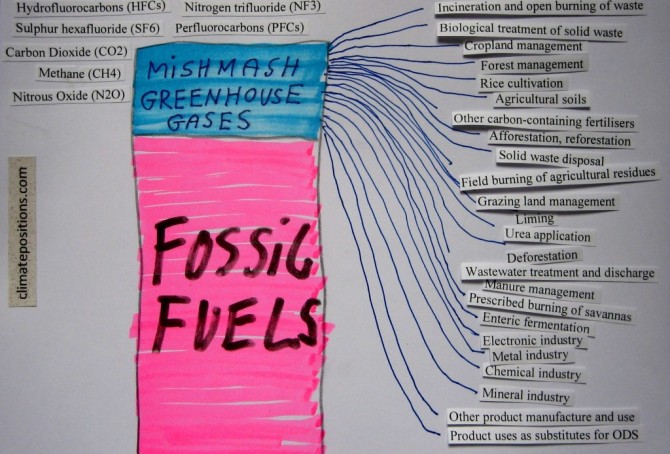 This article is about the different greenhouse gases and what appears to be a delaying COP negotiation strategy on the road to a potentially very costly global greenhouse gas reduction agreement. The essential climate change problem (as I see it) is the greenhouse gas emissions related to fossil fuels. As an example, around 82% of all anthropologic greenhouse gases in the United States are related to coal, oil or natural gas. This measure includes emissions of three different greenhouse gases: carbon dioxide (CO2), methane (CH4) and nitrous oxide (N2O).
Since 1990 the atmospheric concentrations of these three gases has increases by around 13% (carbon dioxide), 7% (methane) and 6% (nitrous oxide). However, the three gases are also emitted from other sources than fossil fuels, including many natural sources … in addition, the potent synthetic fluorinated gases (F-gases) are not related to fossil fuels at all. On a global scale the overall picture is extremely complicated. Note that water vapor is the dominant greenhouse gas among all, but it is not considered relevant to the anthropogenic global warming – and therefore water vapor is usually not regarded as a greenhouse gas.
Submissions of 33 countries (including 'EU-28') with "intended nationally determined" greenhouse gas reductions have so far reached the United Nation's 'COP process website'. The greenhouse gas reductions proclaimed in the submissions include, besides carbon dioxide (CO2), gases such as methane, nitrous oxide, perfluorocarbons, hydrofluorocarbons, sulphur hexafluoride and nitrogen trifluoride – and changes in land-use and forestry. This mixture of different sources together with different parties, base years and target years, make the intended greenhouse gas reductions both muddy and incomparable between nations. None of the submissions so far include future financing to developing countries.
The following compares the submissions of the United States, the European Union (EU-28) and Russia – combined these 30 countries were responsible of 34% of the global carbon dioxide emissions from fossil fuels in 2012.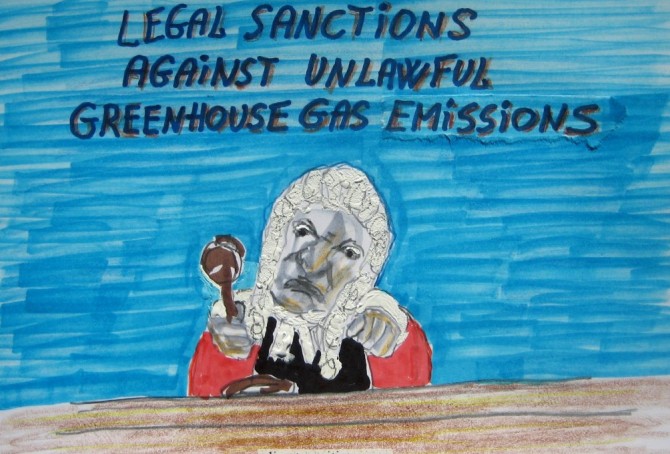 March 2015, a group of prominent experts¹ in international law, human rights law, environmental law, and other law adopted the 'Oslo Principles on Global Obligations to Reduce Climate Change' (pdf 8 pages) – see also the expert group's appended 'Commentary' (pdf 94 pages; this 'List of contents' written by me might be useful).
Before proceeding read this summarizing article on the subject in The Guardian: 'Climate change: at last a breakthrough to our catastrophic political impasse?' and this article in Huffington Post: 'Landmark Dutch Lawsuit Puts Governments Around the World on Notice'.
The Oslo Principles are divided into a Preamble (introduction), a General Principle (Principle 1), Definitions (Principles 2-5) and Specific Obligations (A. Obligations of States and Enterprises, Principles 6-12; B. Obligations of States, Principles 13-24; C. Procedural Obligations of States, Principles 25-26 and D. Obligations of Enterprises, Principles 27-30).
In short, the message is that 'greenhouse gas' emissions (GHG emissions) are unlawful unless they are consistent with a plan of steady reductions to ensure that the global surface temperature increase never exceeds pre-industrial temperatures by more than two degrees Celsius – in accordance with the recommendations of an overwhelming majority of leading climate scientists.
Below is a selection of essential selected quotes from the Oslo Principles (in red) and the appended Commentaries (in blue).