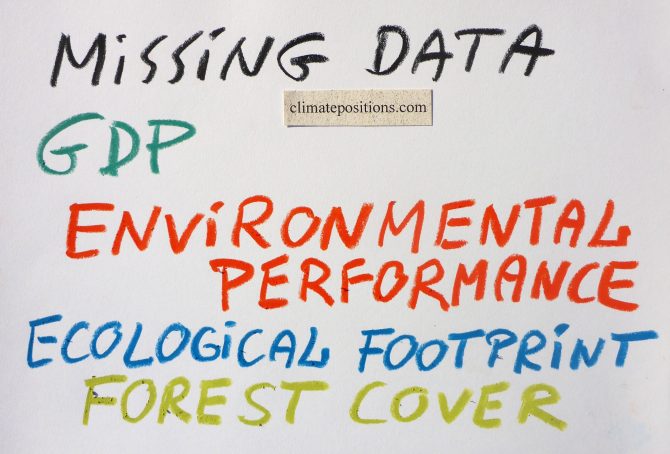 24 countries or administrative regions with populations larger than 100,000 are excluded from ClimatePositions due to incomplete 'Indicator' data. However, approximate Climate Debts can be calculated by using assumptions of the missing values of: 1) GDP(ppp-$), 2) Environmental Performance, 3) Ecological Footprint (without Carbon Footprint), 4) Forest Cover, Primary Forest and Protected Waters.
First, the table below shows the estimated Climate Debt of the 24 countries or regions. Together, they represent 1.3% of the Population and 2.5% of the total Climate Debt of the 163 countries with full data in ClimatePositions (see the 'Ranking'). The estimated average Climate Debt of the 24 countries is $1,765 per capita compared to $905 of the 163 countries with full data.
The updated per capita Ecological Footprint¹ for 192 is available for licensing by 'Global Footprint Network' (Public Data Package – Free Download). The average Ecological Footprint without the weighty Carbon Footprint², since 2005, is used as an 'Indicator' in ClimatePositions when calculating national Climate Debts. The footprint-indicator includes: 1) Built-up Land, 2) Cropland, 3) Grazing Land, 4) Forest Product and 5) Fishing Ground, all allocated to the consumption components of Food, Shelter, Mobility, Goods and Services.
The relative per capita Ecological Footprints without carbon, over time, of the '90 countries with Climate Debt' are shown in the table below. An average country among 172 countries in ClimatePositions is set at 100. Note that the data-year is about 4 years prior to the release year.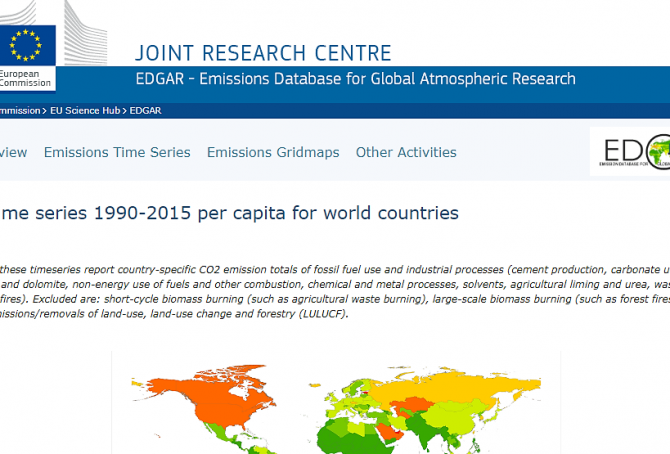 As announced in the previous 'Article' the calculations of Climate Debt by country in ClimatePositions has now been updated with CO2 Emissions data from 'EDGAR' (European Commission), instead of data from Global Carbon Project (CDIAC).
At the same time, the global CO2 target has been raised by 0.2 tons per capita by 2025, and the indicators of Ecological Footprint (without carbon) and GDP (ppp-$) 2016 have been updated as well. New updated rankings are available in the menu "Climate Debt" above. Updated data and diagrams with all 'Indicators' and all countries are available in the submenu 'Calculations (Excel)'.
The table below shows the new ranking of 163 countries in comparison with the previous (last) ranking (159 countries) with emission data from Global Carbon Project (CDIAC). No Climate Debt is marked "free". Only Montenegro is excluded from the new ranking due to missing CO2 Emission data (ranks 69th in the previous ranking).