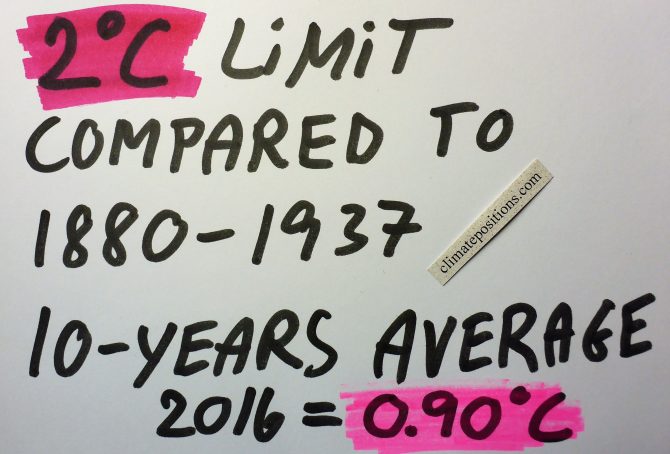 194 countries have agreed to hold the increase in the global average temperature to well below 2°C above pre-industrial levels. However, neither "global average temperature" nor "pre-industrial levels" are defined in the agreement. Furthermore, different scientific groups produce different temperature datasets, which are not exactly the same because of differences in the methodologies (and to complete the absurdity, the Paris Agreement contains no binding national emission pathways to the overall goal). The following temperature survey refers to datasets from 'National Oceanic and Atmospheric Administration (NOAA)'.
The diagram below shows the global surface (air) temperature 1880-2016 over 1) Land, 2) Ocean and 3) Land/Ocean combined (which is most commonly used). All three baselines are 1880-1937 (set at 0°C) and the dashed lines show the average trends. Apparently, global (air) warming happens considerably faster on land than on oceans. By the way, the global warming in 2016, baseline 1880-1937, was 1.73°C (Land), 0.94°C (Ocean) and 1.15°C (Land/Ocean).
Added 07-02-2017: Soon, the global temperature 'Indicator' in ClimatePosition will be changed from Land (air) Temperature (10-years average) to Land/Ocean (air) Temperature (10-years average). The change will not affect the current accumulated Climate Debt of any country, only the future calculation.